Theater Design Northwest consulted with these great clients for a complete room makeover that delivers cinema performance with a clean high end look. After consulting with us, the clients and their carpenter began work on paint, new millwork and lighting while we finalized the details of a serious THX Home Theater system design, budget and a custom screen wall design that we would fabricate onsite.    
< Before the Transformation
The clients are quite pleased with the results and are fully enjoying incredible audio+video every time they turn the system on. This was our first 3D/9.1 surround project and we are impressed with the immersive quality of the new tech. Most of our VT25 customers are not actually looking for 3D, choose the VT25 purely for it's incredible 2D picture and end up loving the extra bonus of 3D capability.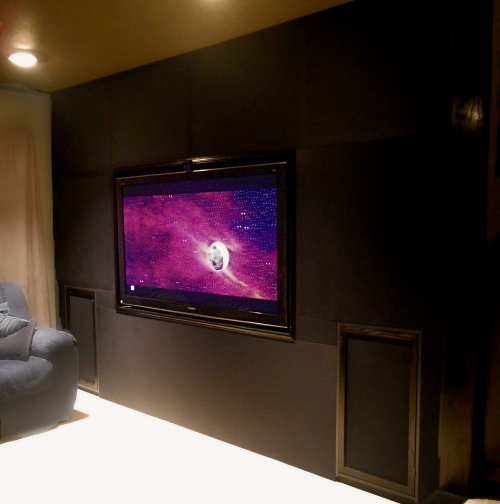 Screen Wall Installations
Are a perfect custom solution for a great looking and sounding media room or home theater space that solves the age-old dilemma of high performance AV vs beautiful decor. We first complete a technical design so each piece of equipment is installed in the perfect place for optimal performance, ventilation and functionality. Then your design is custom fabricated onsite using panels we cover with acoustically transparent fabric. Benefits include:
The dark fabric absorbs ambient light from the screen, increasing perceived contrast
The hidden equipment is non-distracting, helping to suspend disbelief for a true cinema experience in your home
Cost effective- a custom screen wall costs the same as a quality entertainment furniture piece
Space saving- a screen wall takes up no more space from the wall than most entertainment centers, yet holds times more equipment
Wire management, ventilation, ergonomics-perfect and concealed 
High end sleek design appearance with easy service access
Practicality- Installed in the example at right is: the homes' internet network, power management, receiver and sensors for the RF remote, wiring infrastructure, a huge subwoofer, equipment racks for all source electronics, storage cabinet and speakers for left/right/center/height left/height right channels, an alcove mounted 65″ Plasma display.
Flexibility for easy future upgrades
The Gear
65″ Panasonic VT25 Full HD 3D Plasma display with hard wired Ethernet Vieracast streaming
Sony PS3 with 3D enabled for gaming and BluRay movies
Toshiba HD-DVD player
Channelmaster HDTV antenna for over the air reception of HDTV broadcasts
Pioneer Elite SC-37 THX Ultra 3D capable AV receiver
MK Sound 950THX speakers configured for 9.1 surround sound
Pinnacle Rhino12 1600w dual 12″ subwoofer
URC MX-450 Activity based RF remote
Integrated Lutron Lighting Control
The next upgrade for this AV system will be a Richard Gray's Power Company RGPC 400Pro power management system that will enhance the audio+video quality in this great home theater to the level of sublime.